The recent news that Sears is closing 103 more of its namesake and Kmart stores this year is the latest symptom of the difficult times for brick-and-mortar retailers, especially those whose fortunes are tied to traditional shopping malls (or once operated as a catalog business).
But of course, it's not just large department stores that have struggled in the face of online options like Amazon: Shops selling musical instruments and related accessories have been folding across the country, which is especially noteworthy, as it's been long believed that one must try out a guitar, trumpet or cello before dropping several hundred or thousand dollars on it.
As I reported in an article for the February issue of Acoustic Guitar magazine, this isn't necessarily the case, so small music shop owners are trying various tactics to lure people into their stores. Many are promoting their value as one-stop gathering places: The guitarist who drops in to buy strings or an amplifier might return to see an in-store performance or participate in a slide guitar workshop. That same guitarist also might notice an instrument in the store, go home and research it online, and, the thinking goes, return later to make an offer.
On a visit to Southside Guitars, in Williamsburg, Brooklyn, sales associate David von Bader described to me the importance of a communal space that attracts a wide cross-section of locals.
"We have everyone from broke punk musicians in the neighborhood to pharmaceutical CEOs looking to buy blue-chip guitars for their collection," he said. "As a consumer, I'll go to shops where I feel well-treated. For many years of my life, I couldn't afford things in shops like this. But you keep coming back because it's part of the community. That's where you learn about instruments."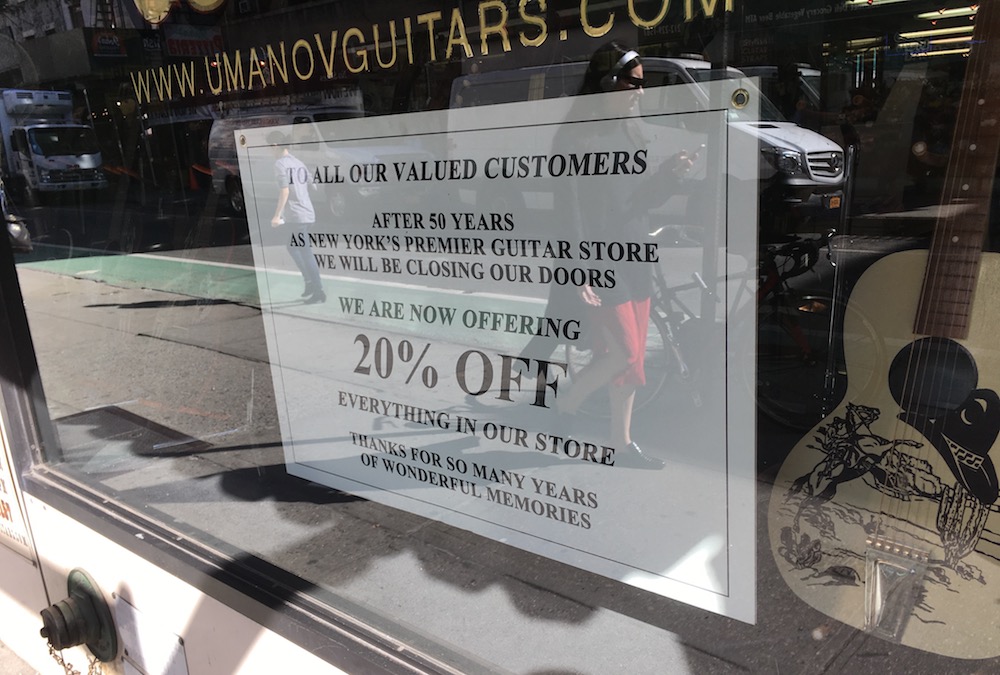 Of course, Amazon and online music retailers like Reverb have some obvious advantages in convenience. Not everyone lives in an area flush with music shops, and not every brick-and-mortar shop is welcoming. The late Patelson's Music House behind Carnegie Hall was famous for both its wide selection of sheet music and its crusty, cantankerous staff. Stores along the now-faded Music Row of West 48th Street had mixed reputations for customer service and pricing, though they didn't lack for character and occasional deals. But some musicians felt these stores simply weren't worth the hassle.
Owners of independent guitar shops around the U.S. tell me that they continue to serve as places to seek expert advice, comparison shop and learn about the newest instruments. But many also maintain robust websites of their own. It may be a sound insurance policy for the future.
Read the full piece and also read why Matt Umanov Guitars in Manhattan closed late last year.
Top Photo: Music Emporium in Lexington, Massachusetts