Can method acting enhance an opera performance? Should an opera singer look like the character they are portraying, down to their body weight and hairstyle? These questions came up recently in a conversation with John Moore, the baritone who is starring as Apple co-founder Steve Jobs in the Seattle Opera production of The Revolution of Steve Jobs (February 23 – March 9).
"I've lost 20 pounds over the last year," he told me in an interview, which appears in the February issue of BBC Music Magazine. "I'm at the smallest weight that I've ever been."
Moore was also considering what to do about his natural hair. "I'm still having this conversation with my wife: I have beautiful, curly brown hair down to the middle of my back and I'm thinking about shaving it completely off for this role and looking somewhat gaunt. I want people to come to that opera and look at me and be like, 'Wow, there's a little bit of gaunt cheeks.' For an audience today that looks at the details on a 3.5-inch screen or an iPad most of the time, seeing that kind of close detail is really important."
Moore could, of course, wear on a wig and rely on the makeup department to help him develop a physical approximation of the late tech visionary (baritone Edward Parks accomplished this when playing Jobs for the Santa Fe Opera premiere in 2017). But on a practical level, Moore says that removing all of makeup would require another 30 minutes to get out of the opera house at the end of the night. He also wants to inhabit the character with greater authenticity.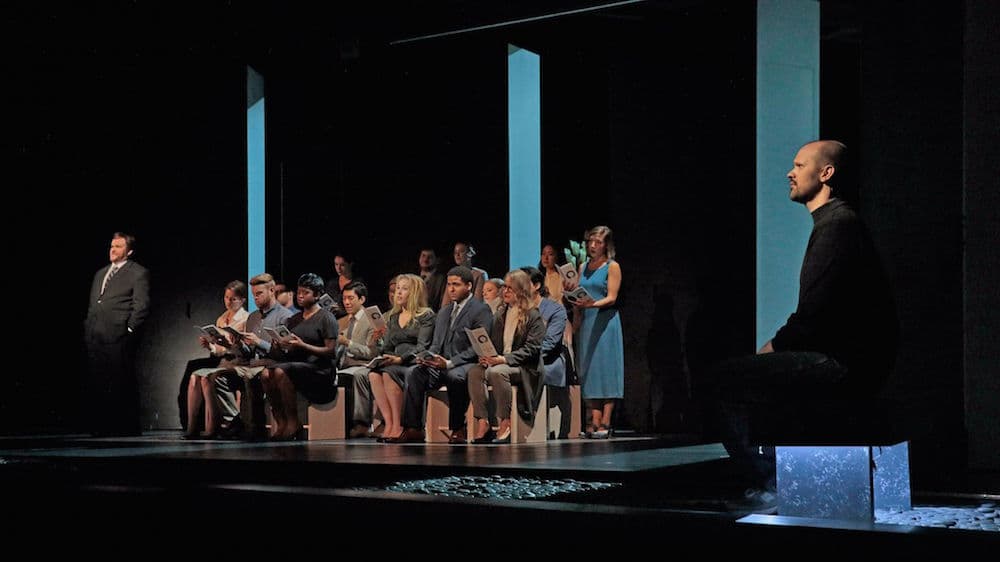 "I'm someone that, as soon as you put too much makeup on me, or put a wig on me, I lose a sense of naturalness," Moore says. "I touch my face and my hair as sort of a habit, and it informs my character in a lot of ways. Sometimes when you're running your hands through your fake hair, it doesn't feel right. I feel like that reads."
Because acting is often seen as a lower priority than vocal achievement for singers, there are not many prominent examples of method stage performers in the field. A few singers have been known go further in inhabiting roles, including Natalie Dessay, who portrays Bellini's heroines with particular intensity, and Anthony Dean Griffey, who has been known to draw on real-life experiences to play Britten's embattled Peter Grimes, among other characters.
Moore, who previously appeared in Missy Mazzoli's opera Breaking the Waves, has benefitted from access to videos of the real-life Jobs's product launches. "He wasn't flashy," Moore said of Jobs. "His arms basically stay at a 90 degree angle and move no further out from his body that are necessary. He doesn't make grand gestures. His hand goes from his pocket to his face like everyone's does now. I would say when you watch him in interviews, he's sitting back, he's not sitting forward. He's very relaxed, he's very Zen.
"I get excited about being the truest representation that on stage as I can be and because it's Steve Jobs, there's nothing to hide behind. It's a black shirt and blue jeans and for him at that time, a bald head and some scruffy facial hair."
Read the Q&A in the February 2019 issue of BBC Music Magazine.