The year 2023 brings a major Rachmaninoff anniversary, a changing of the string quartet guard, and the growth of immersive concert experiences. Here are eight things to watch for this year.
1. Audience comfort with concert hall attendance will grow.
It's been a slow slog through the pandemic, and of course, Covid-19 is still with us. Data from WolfBrown's December 2022 report, "What Happened to Audiences?" shows that about 17% of audiences are not yet ready to return to halls, though that number has been slowly declining. Non-returners cite various reasons for their reticence. Some remain worried about exposure to Covid-19 in crowded indoor venues. Others say they have become more selective in what they want to hear. Cost of living concerns have also surfaced.
But intentions and action are separate matters, and anecdotally, many U.S. venues report audiences being down 20 to 40 percent below pre-pandemic levels. Below is a chart showing audiences' stated comfort levels from the past two years, with the top line representing outdoor events and the bottom line indoor venues.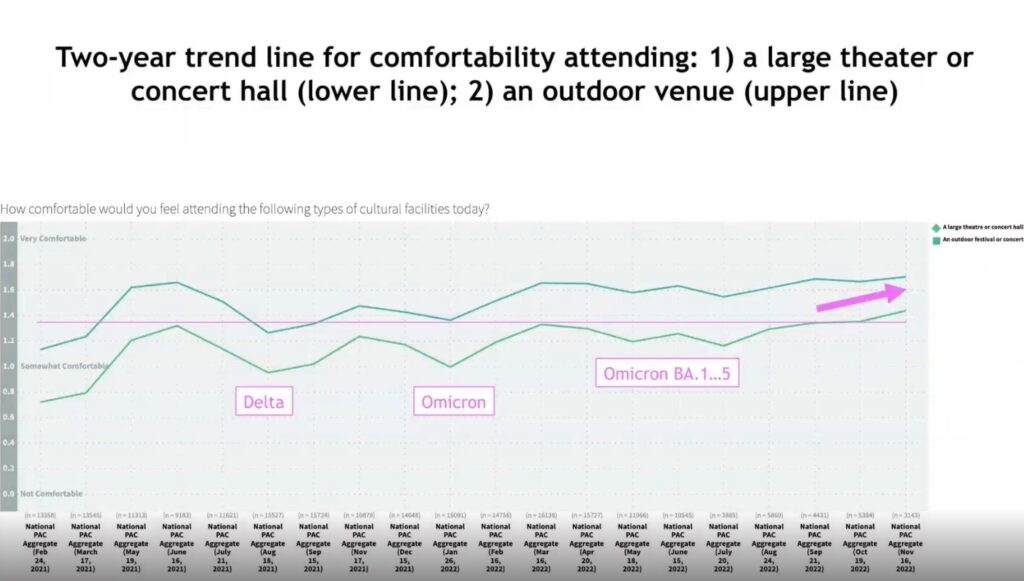 2. Tried-and-true programming will make a comeback.
After recent efforts to program more works by underrepresented composers, arts organizations will respond to audiences' desires for the music that they know they already like. While diversification won't entirely disappear, familiar works will steadily become more plentiful. Milwaukee Symphony president Mark Neihaus recently observed that audiences "are not particularly adventurous to go see new plays, new operas or new pieces of music" these days. "That means in aggregate we're not coming back yet."
3. Audiences will continue to make peace with digital programming and watching concerts from their sofas.
As many people still work from home, and may never go back to the office, commuting to downtown arts venues comes with perceived hurdles. So while Netflix and Hulu may be slashing budgets, arts-specific streaming ventures should see a stabilization and even some growth. Concert presenters will also need to develop new strategies for luring potential audiences off their sofas.
4. Immersive experiences will grow.
Expect to see more immersive, interactive presentations in 2023. These follow in the path of the recent immersive Van Gogh exhibits; the Park Avenue Armory's film installation Euphoria; the Lindy Hume staging of Schubert's Winterreise at London's Barbican Centre; and the Curtis Institute of Music's Immersive Scheherazade. (Disclosure: I am the editor of Curtis's Overtones magazine.)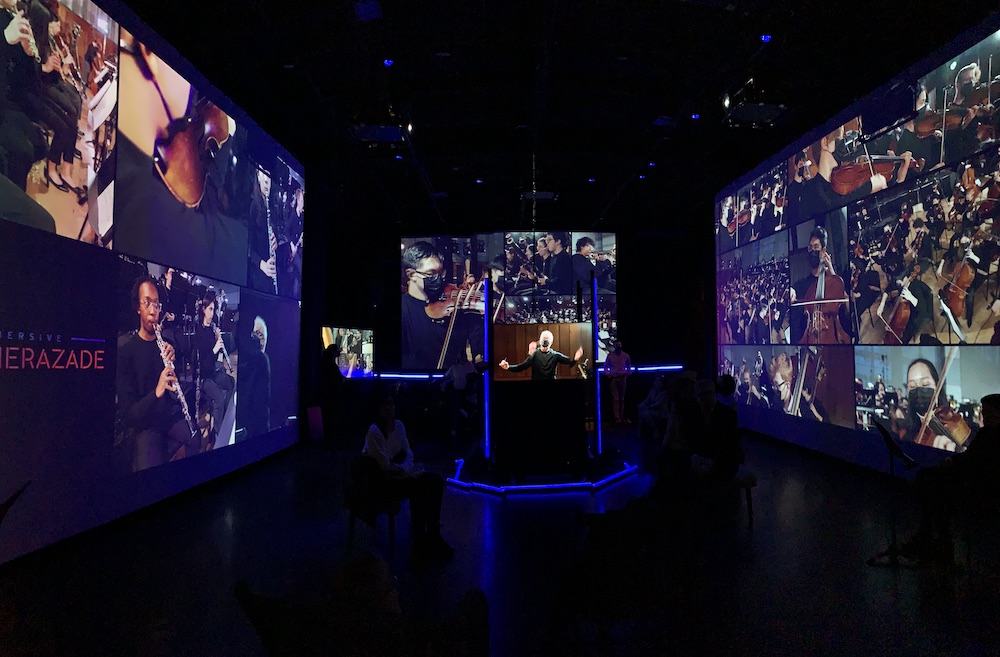 5. Concert presenters will try to recapture audiences with better seating.
Speaking as a tall person, not every new concert hall has hit a home run when it comes to seating comfort. But some older halls, including the War Memorial in San Francisco, have recently revamped their seating with an eye towards the comfy chairs that one finds in some movie theaters. Expect more examination of seat comfort in 2023.
6. Some arts organizations will embrace contemporary fare.
Not every arts organization will move towards tried-and-true fare. Case in point: the Metropolitan Opera's recent announcement that it will withdraw $30 million from its endowment and stage more popular, modern works. As the New York Times reports, "While attendance has been generally anemic, contemporary works including Terence Blanchard's 'Fire Shut Up in My Bones' last season and Kevin Puts's 'The Hours' this season drew sellout crowds. (Verdi's 'Don Carlo,' by contrast, ended its run this month with 40 percent attendance.) From now on, [general manager Peter] Gelb said, the Met will open each season with a new production of a contemporary work."
7. The string quartet landscape will see more turnover.
The Emerson Quartet, arguably the most accomplished quartet on the American landscape, will complete its farewell tour in October. In turn, the nature of the big-league, name-brand string quartet will continue to shift. Expect to see younger groups become more project-driven and work more freely across genre boundaries. I examined this in the fall issue of Chamber Music magazine.
8. Rachmaninoff will get the anniversary treatment.
The anniversary-loving classical music world will have a significant one to celebrate in 2023: April 1st marks the 150th anniversary of Rachmaninoff's birth. Look for programs that go beyond the familiar piano concertos and explore the songs, choral music, operas and symphonies.