The 2016-17 season of classical music is underway with plenty of Gershwin, a debated new production of Wagner's Tristan und Isolde at the Met, and labor crises in Pennsylvania and Fort Worth. Here are seven other things to watch and listen for in the months ahead.
1. String Quartets Performing with Opera Singers
Though string quartets have been performing with opera singers ever since Schoenberg's 1908 String Quartet No. 2, the mini-genre has taken flight lately. Most intriguingly, the vibrant quartet Brooklyn Rider has teamed up with Swedish mezzo-soprano Anne Sofie von Otter for a new recording of works by John Adams, Björk, Nico Muhly, Kate Bush, Elvis Costello and others. Their nine-city tour takes them to Carnegie Hall on Oct. 13. Other current examples of this trend include Joyce DiDonato performing with the Brentano String Quartet and Renée Fleming with the Emerson String Quartet (the latter will survey lesser-known corners of Viennese modernism at Walt Disney Concert Hall on Oct. 18).
2. Concerts to Make You Sleep
Gimmicky though it may sound, "music for sleeping" has captured the imagination of late. This November, the alt-classical-cabaret singer Theo Bleckmann will present All Souls in the Dark, an evening at Brooklyn's National Sawdust of "sounds, melodies and landscapes" staged in "complete darkness" (pillows will be provided). This follows Max Richters' eight-hour composition Sleep; a proliferation of sleep music channels on Spotify and Pandora; a sleep-themed concert by violinist Pekka Kuusisto; and Jeff Bridges' Sleeping Tapes. Maybe the guy snoring behind you at Lincoln Center was onto something all along?
3. Operas with Social and Political Themes
So-called "indie opera" has often emphasized work of topicality and tough-edged themes, thanks in part to producing organizations like Beth Morrison Projects and nimble companies like Opera Philadelphia. This year brings the New York premiere of Tobin Stokes and Heather Raffo's one-act Fallujah (pictured above), about a U.S. Marine who deals with the effects of post-traumatic stress disorder after serving in the Iraq War (New York City Opera, Nov. 17-20). Los Angeles Opera will revive Ted Hearnes's The Source, a pointed oratorio about the WikiLeaks revelations of Chelsea Manning (Oct. 19-23). The Prototype Festival returns to rouse New Yorkers out of January hibernation (Jan. 5-15), while in October, the American Symphony Orchestra performs two politically-themed works from the early 20th century at Carnegie Hall: Krenek's Der Diktator and Strauss's Friedenstag.
4. Tributes to Minimalist Masters
Say what you will of the classical music field's attachment to round-numbered anniversaries, the 2016-17 concert season is a big one for composers identified with minimalism. Steve Reich turned 80 on Oct. 3 and will hold the composer's chair at Carnegie Hall this season. John Adams turns 70 on Feb. 15 and in doing so, should hold onto his status as the most-performed living composer of orchestral music (after John Williams, at least): the Los Angeles Philharmonic presents his oratorio El Niño in December and a recording of his Scheherazade.2 has just been released. Meanwhile, Philip Glass will turn 80 on Jan. 31, months after receiving the National Medal of Arts (below). Other events include a Barbican Centre festival "Reich, Adams, Glass: The Sounds that Changed America."
5. Virtual Reality Experiments
It remains to be seen whether still-nascent Virtual Reality technology can have any lasting application for classical music. But at least a half-dozen professional orchestras have created 360-degree films for use with VR headsets, including the Los Angeles Philharmonic, Toronto Symphony and Adelaide Symphony Orchestra. Last month, London's Philharmonia Orchestra set up a VR exhibit in the Southbank Centre, allowing visitors to don headsets and watch Esa-Pekka Salonen conduct the ensemble in Sibelius's Fifth Symphony. Paola Prestini and Royce Vavrek's Hubble Cantata, which got its premiere in August (see my piece in The Guardian), is expected to be turned into an education-based product in the year ahead.
6. Icelandic Music in Concert and Recordings
Just as Finnish musicians came to wider attention in the 1990s, Iceland is emerging on global classical music stages this decade. The Los Angeles Philharmonic will present a Reykjavik Festival in April 2017, featuring five concerts of Icelandic music from across the stylistic map, along with film screenings, lectures and visual art events. It comes as the New York Philharmonic will premiere a new piece by Icelandic composer Anna Thorvaldsdottir, who is the orchestra's Kravis Emerging Composer. This fall also brings new albums from the composers Jóhann Jóhannsson and Ólafur Arnalds.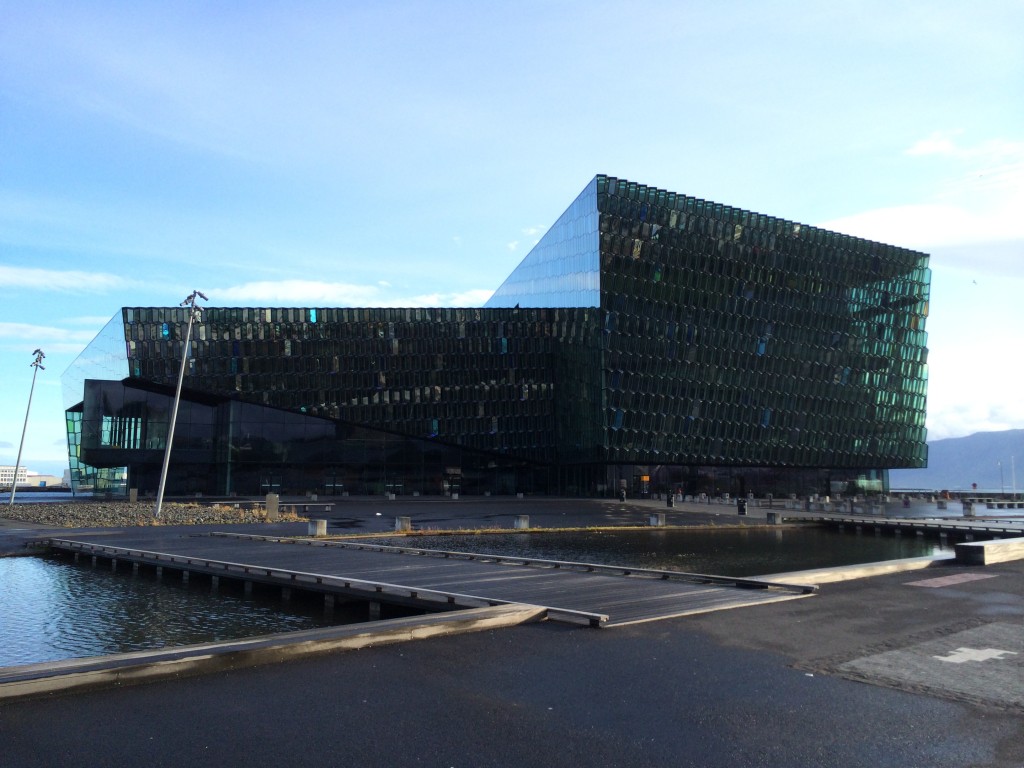 7. Christmas Creep 
It used to be that performances of Handel's Messiah, The Nutcracker or "Holiday Pops" arrived around the second week of December and kept orchestras and choruses humming until Christmas Day. But the holidays are peak season for many organizations, which means that the festivities are increasingly beginning by late November. Perhaps to set the mood, meteorologists are predicting a snowier-than-average winter in some parts of the U.S.
Photo: Fallujah, the opera (photo: Keith Ian Polakoff/Long Beach Opera)