Visitors to Baden-Baden usually have a few items leading their agendas, whether visiting an old-school thermal spa, spending euros (or perhaps, rubles) on boutique-lined Sophienstrasse, or trying lady luck at the casino. The town is tucked away in the Black Forest region, and it feels, it in some ways, like the German equivalent to Aspen or Jackson Hole.
But put all that aside and take a ten-minute drive out of the city center. You'll pass a serene 13th-century monastery (with a terrific cafe) and a few small businesses to arrive at the Brahms House Museum, a 19th century house where Johannes Brahms spent his summers, from 1865 to 1874. At first, it's not easy to find, and my traveling companions and I drove around a bit before realizing that it had to be accessed up a steep, secluded flight of stairs from Maximilianstrasse (there was ample street parking, though check opening hours before visiting).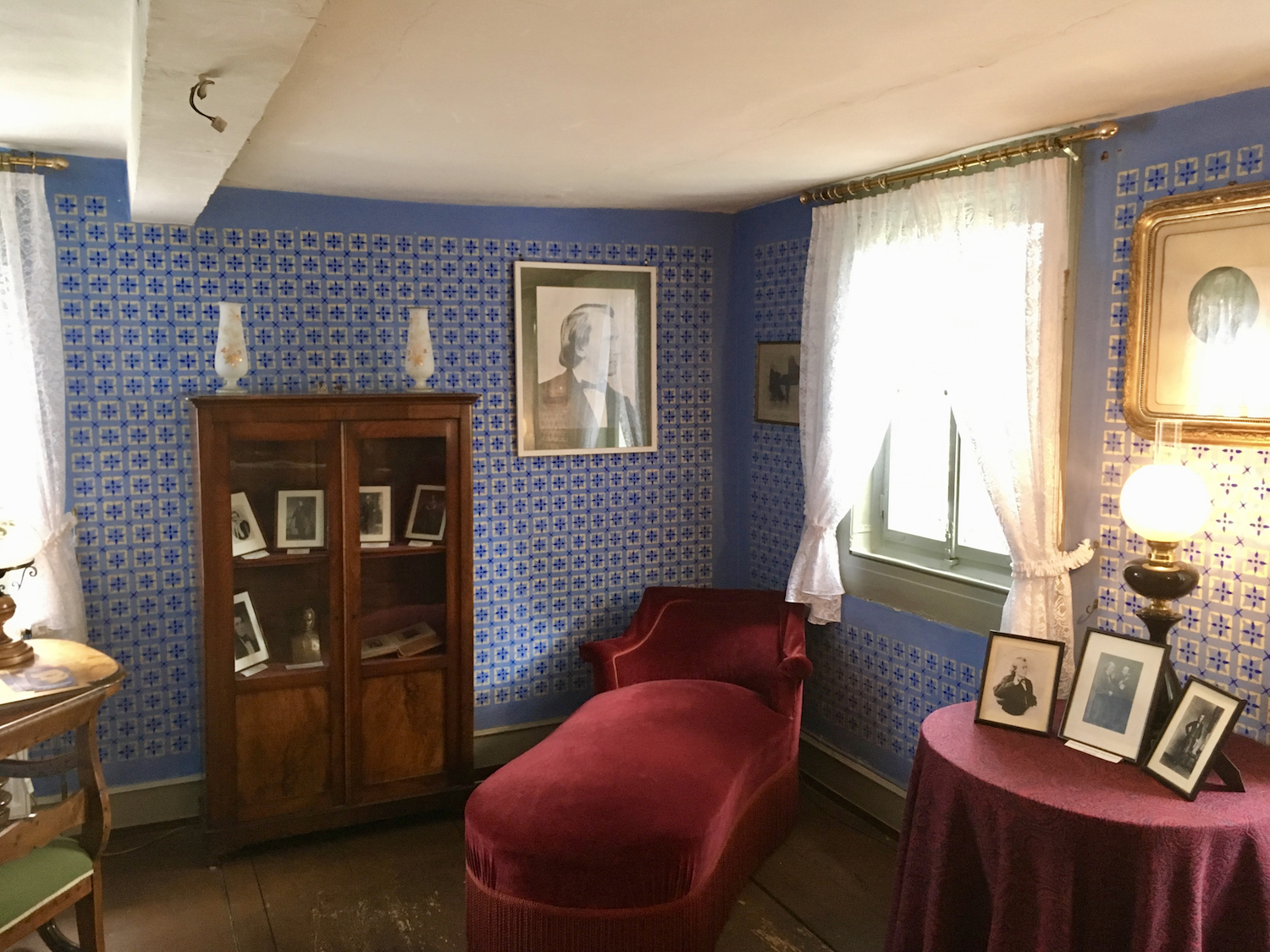 In Brahms's day, this house on a hill was largely isolated, and the composer enjoyed taking long morning walks in the wooded surroundings to get the inspiration flowing. Today, a sixties-era apartment building looms next door, a reminder that the house almost met the wrecking ball in 1966, were it not for the efforts of Brahms-loving preservationists.
The upstairs rooms are carefully maintained, with Brahms's former living quarters now turned into a museum. One room contains a variety of photos, autographs and other documents. Two other rooms recreate Brahms's living room and bedroom. There are at least two original items in the space: a bright red day-bed and an upright piano.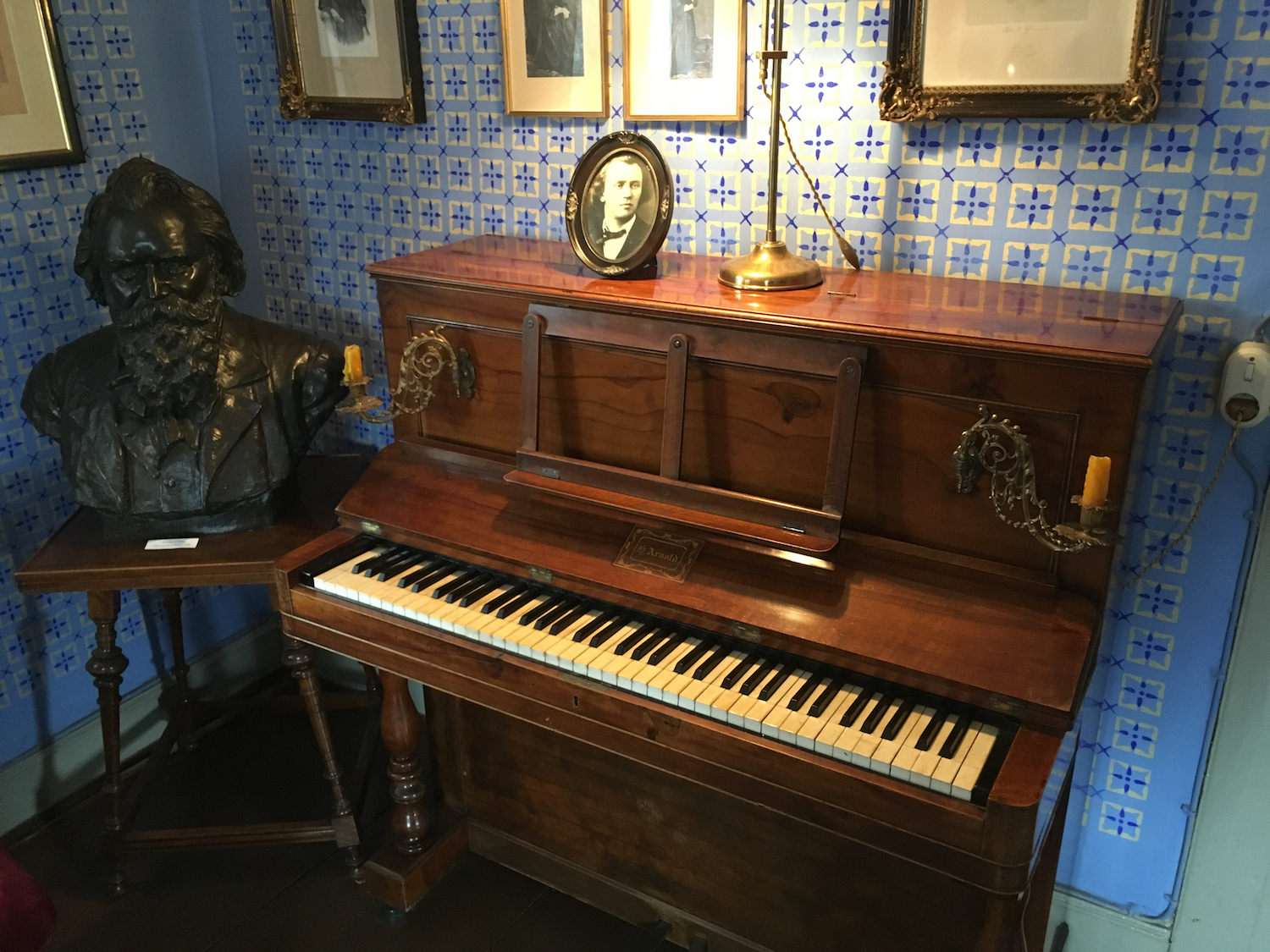 As Ute Blumeyer, the head of the Brahmsgesellschaft Baden-Baden, noted in an informative tour of the space, the lower keys on the piano are worn down more than the others, suggesting that the composer had a particularly aggressive left hand. Brahms worked on a number of important pieces during his summers in Baden-Baden, including the First and Second Symphonies, the Piano Quintet in F minor and German Requiem. He also spent time with his close friend Clara Schumann and her children, who lived nearby in Baden-Baden (her former house also stands, though it's not open to the public).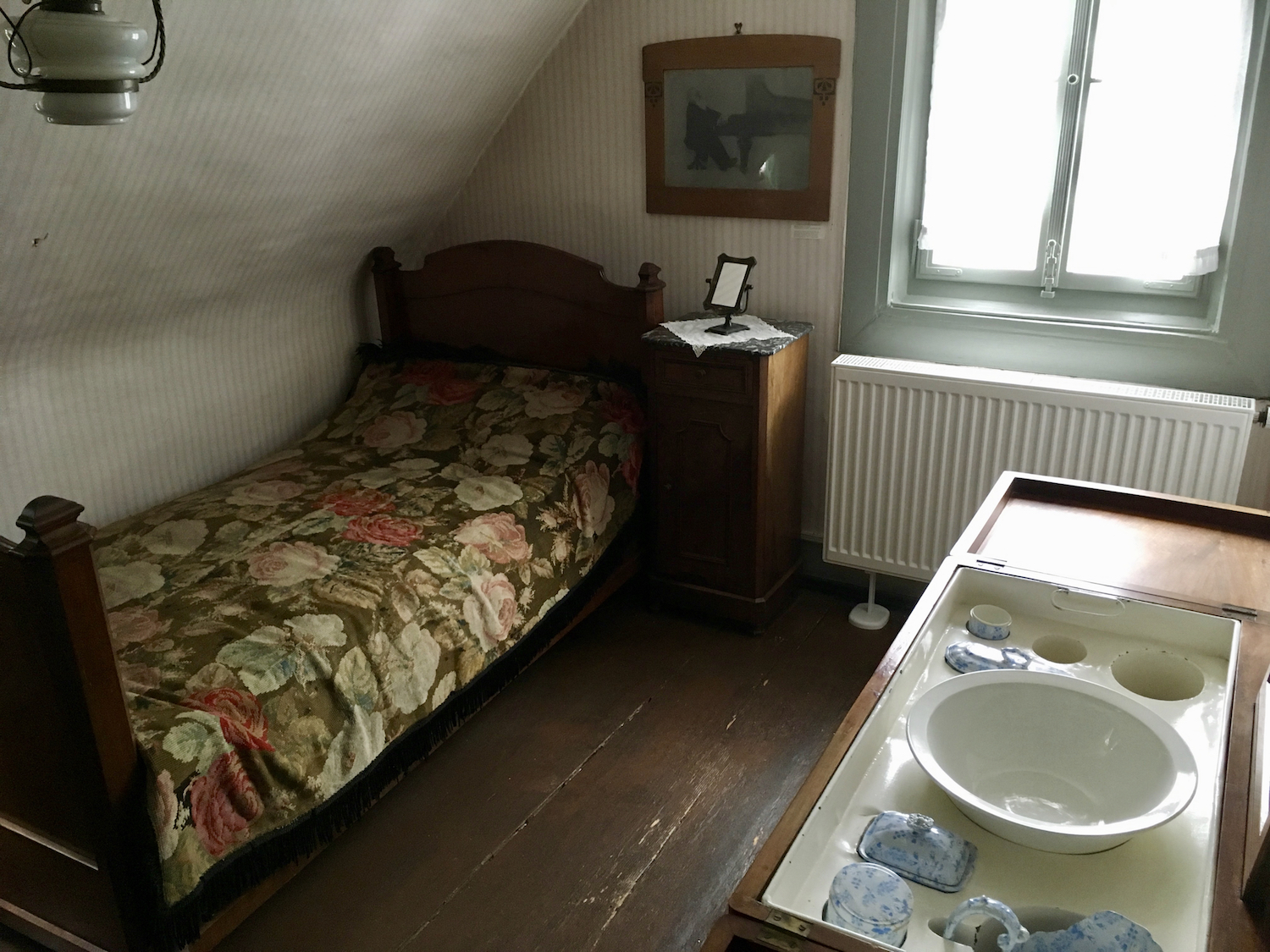 Today, the Brahms House is also home to a guest apartment set aside for musicians and scholars who apply for a residency. The American composer Victoria Bond recently spent some time in the house as she worked on Clara, an opera said to be about the intertwining lives of Brahms, Clara and Robert Schumann. It is scheduled to get its premiere at Baden-Baden's Festspielhaus as part of the Berlin Philharmonic Easter Festival in Baden-Baden in April 2019.
Was Baden-Baden a place of work for Brahms, or a pleasant summer getaway? Probably both, according to most accounts. Biographer Jan Swafford calls his time there a "sociable, brooding, and splendidly productive period," noting how Brahms made connections with other musicians, and enjoyed smoking cigars with authors and painters. In a letter to his father, composer said this of Baden-Baden: "Here one sees all kinds of people, the most beautiful of surroundings, and so it is bearable."