Any list of "horror operas" would not be a long one. It might include supernatural thrillers like Meyerbeer's Robert Le Diable, Britten's The Turn of the Screw and Philip Glass's Fall of the House of Usher. Some would add Verdi's Macbeth (plenty of witches) and Strauss's Elektra (an all-around grim tale).
The Minnesota Opera decided that if it's going to do scary, it will turn to a modern master of the genre: Stephen King. The company is preparing to unveil The Shining, based on the author's 1977 novel, with a score by Pulitzer Prize-winning composer Paul Moravec and a libretto by Mark Campbell. Baritone Brian Mulligan plays caretaker Jack Torrance, who moves with his family into the isolated Overlook Hotel.
The production debuts on May 7, and all four performances are sold out. The work arrives some three years after San Francisco Opera premiered another King-based opera: Tobias Picker's Dolores Claiborne.
Several clips on the Minnesota Opera's website offer a taste of Moravec's score to The Shining, featuring some suitably creepy interludes (replete with agitated string tremolos), and lush, morose scenes with Jack and his wife, Wendy, played by Kelly Kaduce (no word if there will be a "redrum aria"). The production is by Eric Simonson, who directed the premiere of Silent Night, the Pulitzer Prize-winning opera by Kevin Puts.
Along with delivering the chills, The Shining creative team must determine how much to distance the work from Stanley Kubrick's iconic 1980 film version (of which King has been critical). Minnesota has a strict contract with King that, among other things, prohibits video teasers from being offered to the press – an effort to avoid any brand confusion with the movie. But Kubrick's film nonetheless offers a powerful frame of reference for many fans. For now, the below rendering provides a sense of what the finished product might look like.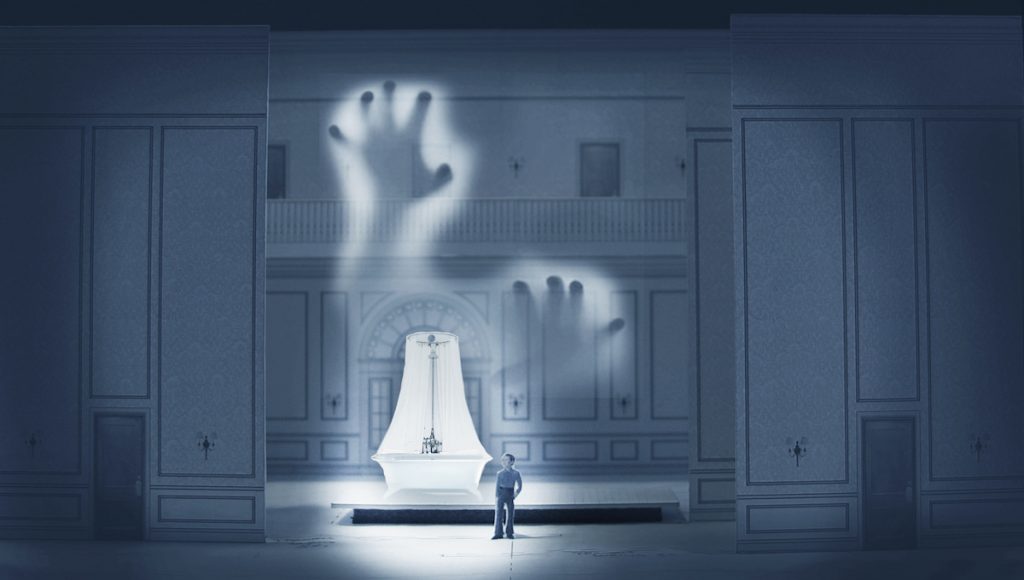 Brian Mulligan Photo by Dario Acosta