On May 25, I attended the first of three final programs that Leonard Slatkin had programmed for his 10th and final season as music director of the Detroit Symphony Orchestra. But Slatkin wasn't there. The 73-year-old conductor was forced to withdraw from the concerts in order to undergo a heart-bypass operation (he's reportedly recovering well).
Filling in on the podium was Peter Oundjian, who himself is preparing to step down as music director of the Toronto Symphony Orchestra this month, and who agreed to stick with the program Slatkin had devised. That in itself was not a simple task, for it included two world premieres: Roshanne Etezady's vibrant curtain-raiser Diamond Rain, and Chris Ceronne's Breaks and Breaks, a taut, pulsating violin concerto featuring the soloist Jennifer Koh. Tchaikovsky's Sixth Symphony followed on the second half.
The hall was perhaps two-thirds full for this Friday morning concert, and the crowd (perhaps helped along slightly by pre-concert coffee and donuts) was appreciative, as much for the premieres as the Tchaikovsky.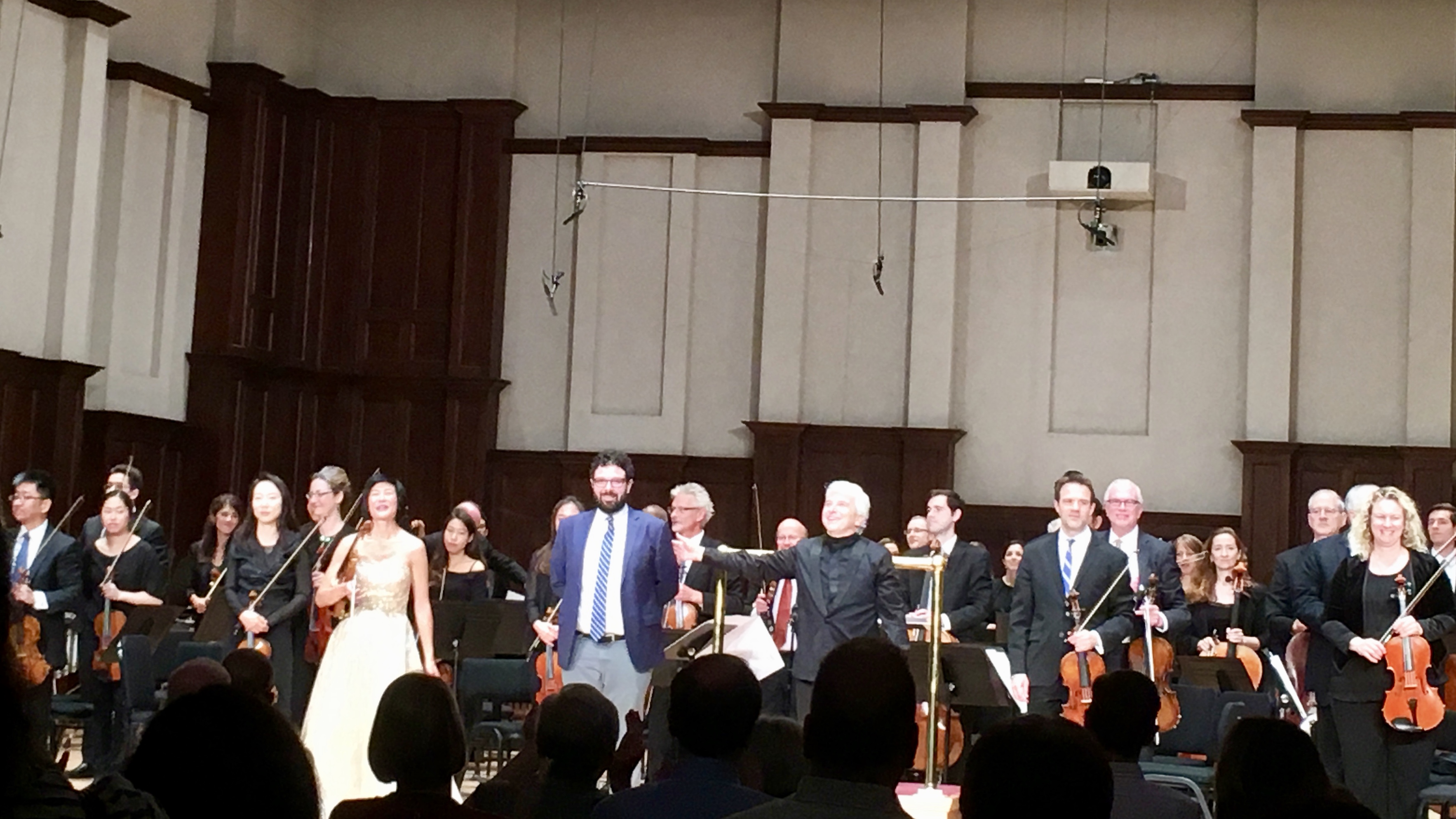 For the June 2018 issue of BBC Music Magazine, I spoke with Slatkin about his final programs. Below are a few "outtakes" from that interview, which was conducted in late April, before news of Slatkin's surgery. It's been lightly edited and condensed for clarity.
What has been your concept for your final season with the DSO? 
Slatkin: There were a couple of emphases that I wanted to present. One was that I commissioned six pieces. Whereas people would normally think that I'd go to my regular group of composers like [John] Corigliano or Chris Rouse, I decided to ask each of them to pick a current or former student. We commissioned opening pieces from them. [For the May 25-27 concerts, Etezady was a student of William Bolcom at the University of Michigan, where she now teaches.]
The second thing was to do several works that I had not performed with the orchestra before. I'd never never done Strauss's Till Eulenspiegel, Wagner's Siegfried Idyll, and coming up, Stravinsky's Le Sacre du Printemps. Surprisingly, I never got to it. Then, I just wanted to have a good time at the last concert, with Puccini's Turandot.
If there was there a pivotal moment of your tenure with the DSO, it might have been the rancorous, six-month strike that occurred in 2010-11, and the various changes that took place afterwards. Would you agree?
Slatkin: You're exactly right. When I started here 10 years ago, I wasn't really looking for a new music directorship. I knew there were going to be problems ahead. Everybody said, 'you shouldn't go there – there's going to be a strike. There will be discontent.' That was enough for me to say, 'I need to do this. I need to take one more orchestra and see if I can make a difference and help them out, because that's what my strength really is.
When the strike finally happened, I realized that part of that mission had changed. Then, it was not just about getting them back to a standard that people had become accustomed to, but really trying new initiatives that would place them in a different world.
It seems as if it takes a crisis to force innovation. Detroit is still the only major U.S. orchestra that live streams nearly all of its subscription programs, to my knowledge.
Slatkin: We're not out of the woods by any means, both the orchestra and the city. There are still financial aspects to deal with and there's a major endowment campaign going on. We're not quite at the goal yet. But we seem to be getting back on track towards that.  That being said, one of the things that made this situation unique is the orchestra was one of the factors in the resurgence of the city. One of the prouder things is the public got behind this. 
Why have you decided to step down now? And what's next?
Slatkin: I've decided to give the administrative part an exit. It's not that it isn't something that I haven't loved doing but I just want to guest conduct now. I want to do other projects as well — a little more in education and I want to do some more writing, whether it's books or music. I want to travel a little bit more. So I want to cut back to about 28 or 30 weeks of conducting altogether.
We'll be relocating back to St. Louis. My entire family history in America goes to that city. But most important, and I'm sorry, Detroit, but I need to get back to my Cardinals. My wife and I are building a house now and we'll be moving near the end of June.
Photo: Leonard Slatkin (credit: David Duchon-Doris)