Every devotee of the Chicago Symphony Orchestra brass section can point to a goosebump-worthy moment in a past performance or recording. Maybe it's the ping of Principal Trumpet Adolph "Bud" Herseth's solos in Richard Strauss' Don Juan, recorded in 1954. Or the riotous blaze of horns that conclude Mahler's Seventh Symphony, from 1971. Or the low brass delivering the stentorian opening theme of Bruckner's Ninth Symphony, released in 2017 (on CSO Resound).
This article was first published on the Chicago Symphony Orchestra's website, CSO Experience.
The CSO brass is such a distinctive feature of the orchestra's sound — albeit inconceivable without sympathetic regiments in the strings, woodwinds and percussion — that it became an attraction unto its own. While on tour in Japan, hordes of brass fans have trailed the orchestra, shouting bravos after performances of Mahler and Bruckner symphonies, and chasing down brass section leaders for autographs as they ducked out of stage doors. At Carnegie Hall, the orchestra received a 20-minute standing ovation after one performance of Mahler's brass-intense Fifth Symphony.
But as a new concert season begins, the question arises: How did this brass aesthetic become so distinctive? And how has it evolved amid personnel turnover, shifting tastes and podium changes?
In the first of three articles, we'll explore the matrix of formative ingredients, including the sway of big band jazz, stereo recordings, hall acoustics, instrument construction and dominant players and conductors. It's a sound that endures even as musical training and audition practices have become more globalized.
Brass Section Pillars: Jacobs and Herseth
Although ingredients of the CSO brass tradition can be traced to the founding of the orchestra, with its Germanic heritage and collective work ethic, the World War II-era brought the sound into focus. In four years, the CSO had recruited two commanding personalities to serve as upper and lower pillars of the brass section, with the hiring of Arnold Jacobs as tuba in 1944, followed by Herseth in 1948.
Jacobs, who had arrived from the Pittsburgh Symphony Orchestra, played in a manner that emphasized a heavy attack to notes and phrases. This was partly learned from his teacher, Philadelphia Orchestra tuba player Philip Donatelli, and partly born of necessity: childhood illness and adult onset asthma had limited Jacobs' breath capacity, necessitating a more pointed attack to let the sound resonate. Also significant was the CC York tuba, then a leading-edge instrument that was rich in overtones and allowed Jacobs to anchor the section while providing a bridge to the lower strings.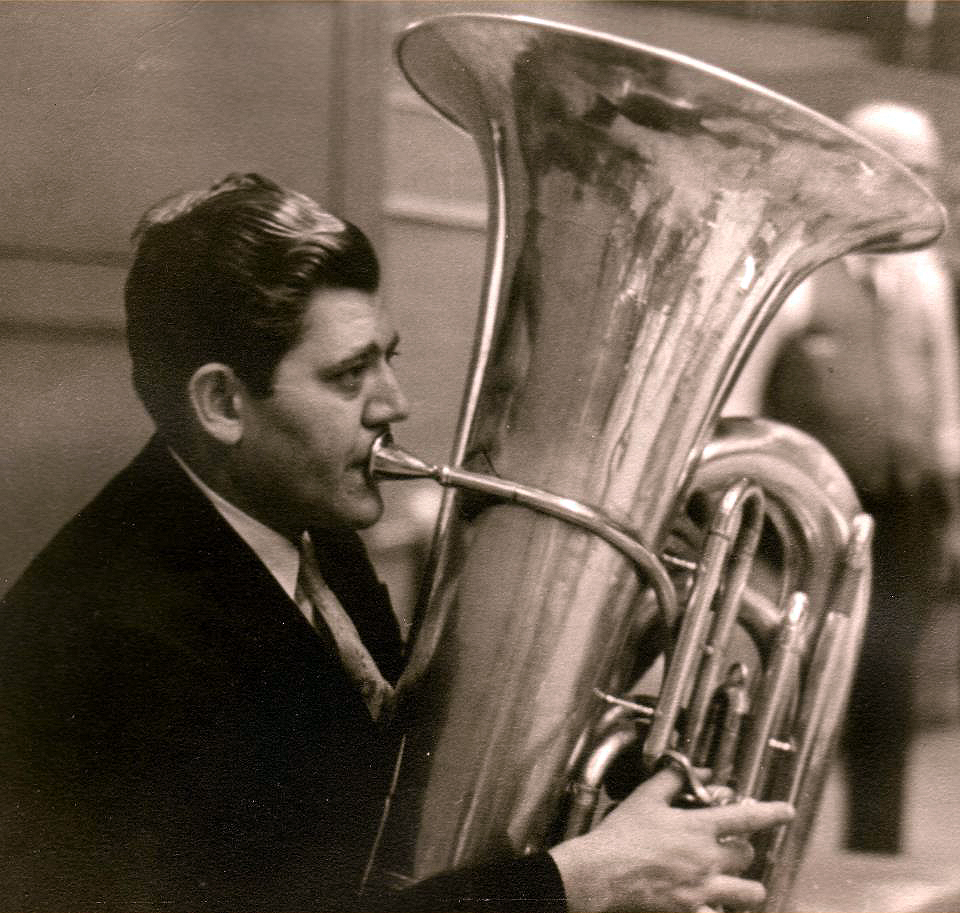 "Jacobs' concept of sound had a lot of front-end clarity," says Gene Pokorny, who succeeded him in 1989, and who remains the orchestra's principal tuba. "The arrival of that concept of the Chicago sound began in 1944 and was fully ready to go in 1948 with the hiring of Adolph Herseth."
Herseth, then a 26-year-old New England Conservatory student on the G.I. Bill, was invited by Artur Rodzinski, then CSO music director, for a 90-minute audition in New York City. Thanks to his studies with Georges Mager and Marcel LaFosse, both French-born members of the Boston Symphony Orchestra, he had a grounding in the French style, with its emphasis on sparkling top notes and a generous vibrato in lyrical passages. Herseth was hired by Rodzinski for the principal job in 1948, one that he held until 2001. (He continued on as principal trumpet emeritus until 2004.)
"He had kind of a Germanic sound but he had the French schooling," says CSO trombone Michael Mulcahy, "so he had the most dreamlike combination of tone and technique. What was really incredible about him was the vibrancy of sound, his clarity of articulation, his palette of colors."
Herseth inspired such confidence early on that Music Director Rafael Kubelík asked him if he had any former classmates to recommend. He named two: Rudolph "Rudy" Nashan, a Chicago-reared German émigré whom the CSO recruited in 1950, and William Babcock, who arrived the following year. "You have three strong trumpet players who studied with the same teacher and played the same instrument," says CSO second trumpet John Hagstrom, alluding to the Bach Stradivarius C trumpets that became a mainstay of the section. "And you get this Technicolor palette all of a sudden."
Early results can be heard on a 1951 recording of Mussorgsky's Pictures at an Exhibition, conducted by Rafael Kubelík. "This was the recording that launched the CSO's reputation of producing great recordings," Jacobs later told a biographer. Among other feats, he stepped in to play the "Bydlo" solo on a B-flat tuba, an instrument pitched an octave lower than the standard tenor tuba on which it's usually performed.
A collective ethos
Herseth soon commanded a deference in the ensemble and drew the loyalty of his former classmates. "You had musicians who were following the directions of a teacher they respected, which made them compatible, but you also had a dynamic where they owed Bud their job," says Hagstrom. "When the trumpet section was unified, that really set a precedent for the other people in the orchestra."
Pokorny puts it another way: "You either joined and contributed to it, or you were wrong." But teamwork was the guiding ethos. "For all the superstars who have been in the principal brass chairs since the early 1950s, the real stars — the core — are the section brass players," he says. "They molded their own playing to adjust to the example given by principal players and others in the orchestra. They were the ones who made it a 'section.'"
Among the 1950s core were such brass luminaries as Frank Crisafulli (principal trombone from 1939 to 1945 and 1946 to 1955, and second trombone, 1955-1989), Edward Kleinhammer (bass trombone, 1940-1985), Vincent Cichowicz (trumpet, 1952-1974) and Philip Farkas (principal horn, 1936-1941 and 1947-1960).
Charles Geyer, who held the fourth and second trumpet posts between 1966 and 1978, remembers how the section acquired its fabled muscularity. "As people joined the brass section, everybody felt they had to play louder than the person they replaced," says Geyer, who as a pedagogue has since taught several CSO trumpet players. "Everybody had that unwritten law in their minds that they felt they had to fit in. If you didn't, you're not going to stay there very long. Herseth just played louder in order to ride over the top.
"But everybody contributed to that brilliance. If the trombones hadn't been picking up on what Jacobs was doing, and the horns weren't fitting in, in the middle, and the trumpets weren't supporting, Herseth wouldn't have sounded as golden, as brilliant, as breathtakingly awesome as he did."
No less remarkable was Herseth's recovery from a 1952 auto accident, which required 15 stitches on his lip and multiple tooth implants. He took a sabbatical, switched to a larger mouthpiece and was back on stage within a few months. "When I came back to the orchestra, I couldn't get above 'F' on the staff, so I felt a bit shaky," he later told the Chicago Tribune. "But you know what? Once the concert started, I was good as ever."
A big band jazz influence
Other factors contributed to the section's post-war brilliance. The acoustics of Orchestra Hall, before renovations in 1966, were notoriously dry, at times prompting Reiner to ask for a more forceful sound. Popular music also exerted an influence. Hagstrom notes how big band records by the likes of Benny Goodman and Harry James offered a "linear" sound concept that was imitated. "If you ever listen to big band 78s on a wind-up record player, you hear a very linear, compressed, in-your-face sound," he says. "You have to remember that these guys grew up and formed their concept in the '30s. A trumpet was a really big star in those ensembles."
The brass section further honed its style through side projects, including the CSO Brass Quintet, which, starting in 1951, regularly performed around the Chicago region, and in 1954, released a debut album. When stereo recordings arrived soon after, the crisper fidelity brought the visceral qualities of the brass to a wider public. "When you hear a really snap-dagger RCA Don Juan, it will take your breath away," Hagstrom says. "Like a lot of people, I didn't get hooked on the CSO by going to concerts. It was through records."
New hires in the 1960s further transformed the brass sound, notably with the arrival of trombonist Jay Friedman in 1962 and horn player Dale Clevenger in 1966. Clevenger as principal brought a brighter tone to the section. "Clevenger was playing with such a brilliance that, in many ways, the horn section was functioning as an auxiliary trumpet section," Hagstrom says, singing a passage from Mahler's Seventh Symphony by way of example. "Listen to the brilliance and linearity with which he plays it. When it's really time to hit the afterburner, you get a trumpet-like parallel in the horns."
Friedman, a Chicago native, was promoted to principal trombone in 1965, a post he holds today. "When I came in there, I was just a kid, but that style was so established that all I had to do is just try and fit in," he recalls. "I didn't have to do anything except listen and try and keep up with those people." He found his footing under the direction of Jean Martinon, music director from 1963 to 1968, who showed an admiration for the brass. "Martinon used to say to the brass, 'A little less, but don't lose the excitement and intensity,' which is a such a great thing to say to people."
Though the Martinon era saw some noteworthy recordings of works by Hindemith and Nielsen, one session particularly stands out in Friedman's memory: "The Antiphonal Music of Gabrieli," which the Chicago Brass Ensemble recorded in 1968, along with brass colleagues in the Philadelphia Orchestra and Cleveland Orchestra.
"That was probably when the world woke up and noticed that the CSO brass kind of stood out among the three brass sections," Friedman says, with an evident sense of pride. "For that recording we didn't even tune up or rehearse. We just started recording. It was late at night because that's the only time they could get the three groups together at one time. You talk about a fly-by-night thing. It was amazing that it came out so well."
Next in the series: How the sound really changed during the era of Sir Georg Solti.
Top Photo: 6/21/19 8:40:37 PM — The Chicago Symphony Orchestra trombone and tuba section, featuring the cimbasso. © Todd Rosenberg Photography 2019