Lincoln Center is expected to unveil architectural plans for the gut renovation of David Geffen Hall in the coming months. The reveal should start to answer questions about what $500 million – the projected price tag – can bring a New York concert venue in 2016. The two architectural firms that won the commission – Heatherwick Studio and Diamond Schmitt Architects – were chosen from over 100 other submissions. None of the plans have been released to the public. 
In an article for the summer issue of Listen magazine, I examine how other concert halls have approached major renovations and where architects, acousticians and designers focus their efforts these days. Here are five trends at play:
Multimedia Capabilities
As more orchestras look to film screenings with live music, video screens, projection walls and high-tech lighting solutions are increasing commonplace. Several observers cited the New World Center in Miami (above) for setting the standard in this department. And it's not just for pops concerts or avant-garde fringe pieces: last season, violinist Gil Shaham toured a program of Bach partitas accompanied by slow-motion films featuring faces of strangers and other images by David Michalek. The Montreal Gazette deemed the effort "mostly successful, avoiding literal illustration and resemblance to screen savers."
The lobby as public gathering space
Alice Tully Hall is a template for this trend. In 2009, a $120 million renovation expanded the low-ceilinged 70's rec room-style lobby by 6,000 square feet to include a restaurant. It now serves as a revenue stream for Lincoln Center while projecting an aura of openness to passing pedestrians.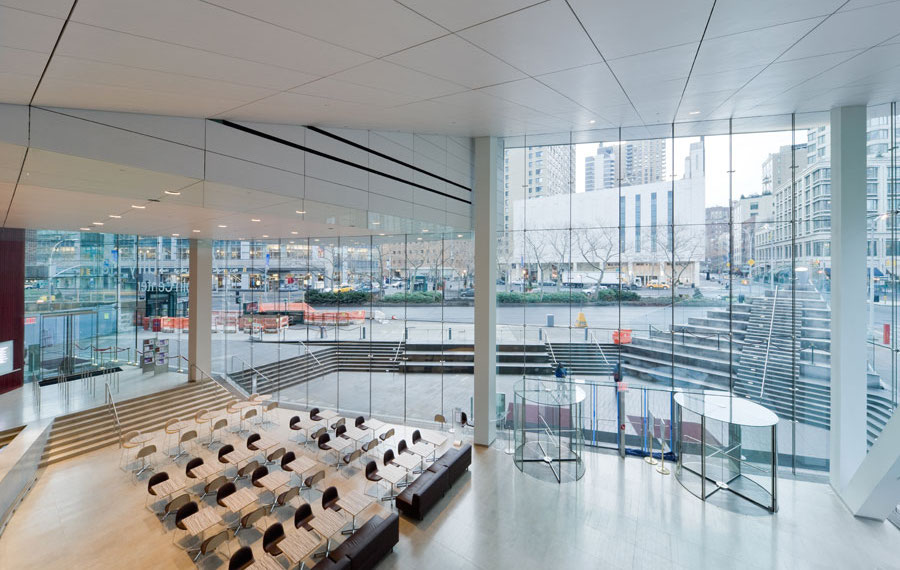 In-the-round seating
Seating arranged in loft-like tiers around the orchestra stage – based on the so-called vineyard model pioneered by the Berlin Philharmonie in 1962 – is nowadays viewed as an egalitarian move. Lincoln Center experimented with this approach at the Mostly Mozart Festival in 2005 and 2006, when the orchestra was moved 30 feet out into Avery Fisher Hall on a temporary stage platform. Though there were a few complaints of inferior acoustics along the sides and rear of the stage, it was deemed a success by many critics and patrons alike.
Fewer seats
Halls across the U.S. are trying to compensate for the overbuilding of earlier eras. Examples include Hill Auditorium in Ann Arbor, which shed some 500 of its 4,200 seats when it was renovated in 2004. Orchestra Hall in Minneapolis cut 365 seats in a makeover that ended in 2013. The most dramatic downsizing is expected in Cincinnati, where the 1878 Music Hall will lose nearly 1,000 of its 3,417 seats when renovations begin this summer. Watch for the same here.
Greater accommodation for pop and rock music
Lincoln Center officials are no doubt looking decades into the future when the nature of classical music concerts may look very different than it does today. Will the 100-piece orchestra exist in its current form? Will pop and rock, musical theater and opera, jazz and hip-hop all have a larger place at the table? And will such genre boundaries even exist?
Sedgwick Clark, the editor of Musical America and a longtime Lincoln Center patron, is wary of the changes. He worries that a renovation of David Geffen Hall will end up marginalizing orchestral music and put amplification first. "They should be able to amplify things," said Clark. "But it worries the hell out of me that it will become a multipurpose facility." Time will tell.
Photo: New World Center, Miami Beach, FL (© rui dias-adios)
9/15/16 Update: The post has been revised to reflect the timetable for renovations; though Lincoln Center had initially planned to announce its renovation plans over the summer, the schedule has since been pushed back indefinitely.