AMSTERDAM – During a fascinating backstage tour of the Concertgebouw in Amsterdam last month, a knowledgeable and droll tour guide paused before a wall of photos of past music directors. He proceeded to weave a series of colorful stories about the heroic and hapless maestros who have led the Royal Concertgebouw Orchestra, and the drama that sometimes followed in their wake. But drama seemed in short supply for one: Bernard Haitink.
There was Willem Mengelberg, who, because of his ties to the Nazis during World War II, was ousted as chief conductor in 1945 and subsequently banned from conducting in the Netherlands. We also learned about Eduard van Beinum, who tragically died on the podium from a heart attack while conducting Brahms's First Symphony. And from the more recent past, the guide described the "mistake" of hiring Danielle Gatti, who was fired in 2018 following sexual misconduct allegations (the orchestra recently issued a statement aiming to clarify the matter).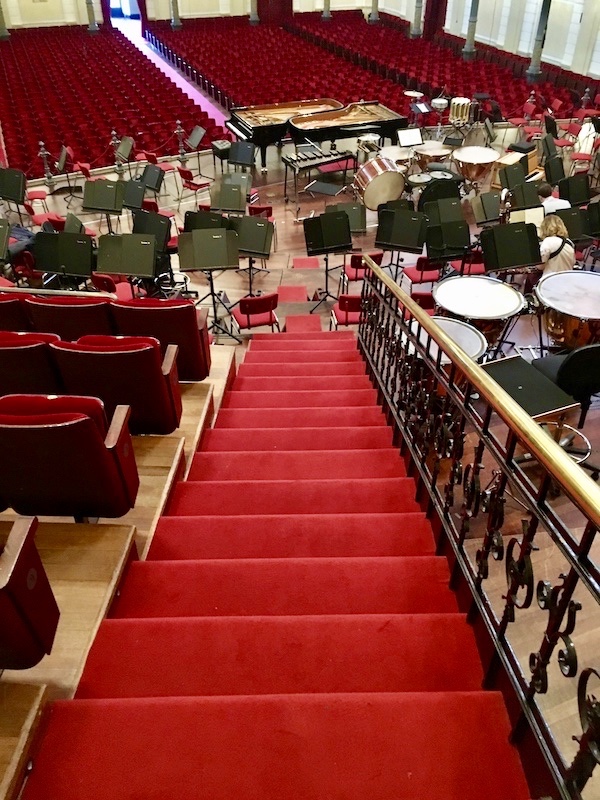 The Amsterdam-born Haitink served as the Concertgebouw's chief conductor from 1961 through 1989, and although his tenure was not without moments of tension – in the early 1980s he threatened to resign in protest of proposed cuts in government subsidies – he is principally known as a mellow, self-deprecating figure on the podium. Our guide stressed that the conductor and musicians got along harmoniously (which was not always the case with other conductors).
Haitink recently made it official that he will be retiring from the podium this September, after a final concert in his current hometown of Lucerne, Switzerland. It's certainly remarkable that he has continued to perform so frequently as he enters his 90th year. This past weekend he made his final conducting appearance at the Concertgebouw.
Amsterdam takes leave of one of the greatest conductors of all times. Bernard Haitink after his @ZaterdagMatinee in the Amsterdam @Concertgebouw. Songs by Strauss and Bruckner VII. An historical concert with the @radiofilhorkest @NPORadio4 @omroepntr @Haitink_fanclub pic.twitter.com/28sMJQQ87z

— K. Vlaardingerbroek (@KeesVlaar) June 15, 2019
Haitink has held a number of posts in his career, including as the Chicago Symphony Orchestra's principal conductor from 2006-10 (I produce the CSO's radio broadcasts). During that period, he gave a series of interviews to the late Chicago music critic and broadcaster Andrew Patner, which are published in a new anthology, A Portrait in Four Movements. In one conversation, from October 2011, he outlined some of his programming philosophy.
Asked why he hadn't conducted Haydn's The Creation until then, Haitink, then 82, replied, "I have strange things in my character. I'm not a schemer. I take things how they come. And sometimes I suggest things, of course. But an important example in my life, the whole Mahler thing. When I started doing Mahler, it was a totally closed book for me. My predecessor, Eduard van Beinum, died far too young, and I became linked to the Concertgebouw. They had a huge contract. You know how it is. Business has to go on.
"I think they took terrible risks with me because I was very young. But [record label] Phillips, who had an exclusive contract with the orchestra at that time, insisted that they will do a Mahler cycle. And I said, 'Well, I can't do it one or two years. I need ten years, every year a symphony, and let's see how it works.'"
Haitink continued: "Nowadays it would be totally different. There are some very talented younger conductors who would jump at it. But at that time, in my country, I was the only white hope."
Here is a 1986 performance of Mahler's Fifth Symphony with the Concertgebouw, which reveals Haitink's reflective side but also his firm grip on the work's violent emotional swings.
Not only did Haitink record the Mahler symphonies for Phillips but he returned to the composer's work in recordings with the Berlin Philharmonic, Dresden Staatskapelle, and Bavarian Radio Symphony Orchestra. He also helped to launch the Chicago Symphony's CSO Resound label in 2007 with a recording of Mahler's Third Symphony. Listen here on Spotify, and then for a comparison of sorts, check out a 2018 broadcast performance with the orchestra, featuring another specialty, the music of Anton Bruckner. It includes his Sixth Symphony and Beethoven's Piano Concerto No. 2, with soloist Paul Lewis.
Photo: Bernard Haitink leads the Chicago Symphony Orchestra (Photo: Todd Rosenberg)