A visit to the Mozart Residence in Salzburg, Austria one early spring day found a surprising number of young visitors in their teens and twenties, representing various nationalities and many seemingly absorbed in the composer's personal story.
Especially attention-getting was a lighthearted exhibit that focused on Mozart's appearance. We learn that he was not very tall nor particularly handsome, despite the impression given by a statue in Salzburg's Old Town implying that Mozart was a large, dashing figure. As the exhibit indicated, he was about 150 centimeters (about 4′ 10″) tall and "not a good-looking person." A display read: "Contemporaries described him: small, pockmarked, a big nose, a large head, his eyes were protruding, yet bright. It has been said that he had nice hands and hair."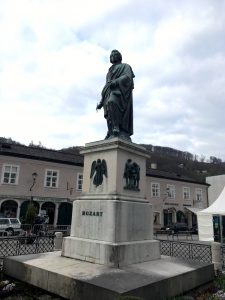 Of course, what 150 centimeters meant in 18th century terms is very different than today. As biographer Andrew Steptoe writes, "analyses based on records from the armies of the Habsburg Empire, Great Britain and elsewhere indicate that the average height of male 18-year-olds born in the 1750s ranged from over 159.1 centimeters (5′ 2 1/2″) to 162.5 centimeters (5'4″)." Mozart was considered short, but not that short.
However, Sadie adds, in the 18th century, there was a much larger height difference between the nobility and the artisans and working class than there is now. Mozart being an "artisan," this may have brought some social stigma and set him apart from his patrons.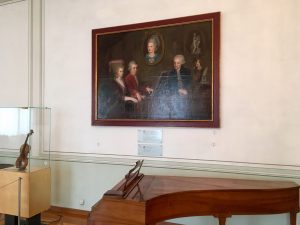 Nevertheless, the larger message of the museum – as told through letters, manuscripts and other artifacts – was that Mozart was an artist of relentless curiosity, focus and ambition. Particularly interesting was a series of short videos describing how at least 10 of his 35 years were spent on the road, and that he truly enjoyed traveling around Europe by stagecoach as a child. The museum didn't give you much sense of what the eight-room apartment may have looked like when Mozart and his family lived there (much of it is a reconstruction, with the original having been half-destroyed by an allied bombing in World War II). But the rooms were spacious enough for the family and its central location near the Salzach River seems nearly ideal.
For a bit of perspective on the composer's popularity, the Mozart Residence ranks #27 on TripAdvisor's ranking of things to see in Salzburg, just below Mozart's Birthplace, at #21. If both museums may deserve a higher ranking (above the modern but utilitarian train station, at #19), their still-large presence is a testament to the composer's name and his impact on tourism.