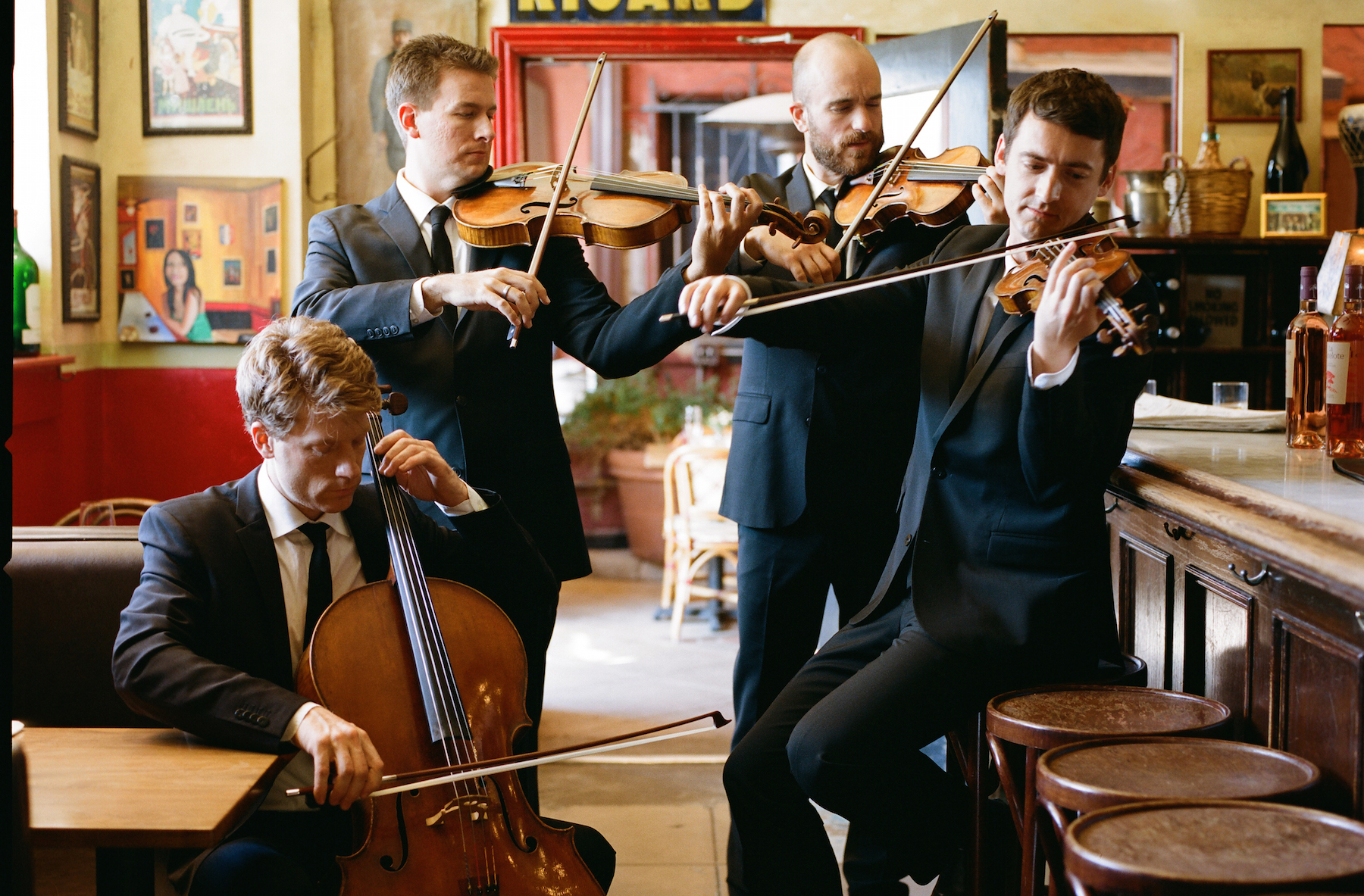 This article originally appeared in the March 2013 issue of The Strad magazine.
A Canadian hardcore punk band with an unprintable name and songs that most radio stations won't touch may seem an unlikely collaborator for a classical string quartet. But in November 2011, the Calder String Quartet was playing on the back of a small stage at the New York nightclub Le Poisson Rouge as the band's bald, shirtless 300-pound lead singer barked and grunted lyrics while guitars thrashed and drums pounded.
Testosterone-fueled mayhem ensued.
"People were crowd-surfing and getting thrown around," recalls cellist Eric Byers. "It was this this extra-intense sweat-drenched thing," says violinist Benjamin Jacobson. Violist Jonathan Moerschel remembers simply, "we were surrounded by crazy people."
"The older Italian instruments didn't make it to that gig," Andrew Bulbrook, the second violinist, assures this interviewer, drawing a sympathetic laugh from the other musicians, who are seated around a large sofa in a friend's Upper West Side apartment.
The punk show, which can be viewed on the website Pitchfork TV, was out on the edge, for sure, but for the Calder Quartet, it was part of an ever-growing variety and unpredictability in its activities. Whether it is offbeat festivals and art galleries, recitals at Lincoln Center and the Barbican Centre (its debut is scheduled for May) or collaborations with rock acts like The National and Vampire Weekend, the group represents an evolving approach to performing quartet music in the 21st century.
The Calder Quartet formed at the University of Southern California in 1998, its members having previously crossed paths at summer camps and elsewhere as teenagers. All had diverse interests beyond their primary instruments: Byers was an avid rock-climber who took courses in Asian Philosophy and Russian Literature. Moerschel played the baroque tenor viola in an early music ensemble. Jacobson undertook neurological research while Bulbrook graduated with an economics degree. They chose the mobile artist Alexander Calder as their namesake.
"They were curious, smart, 'out of the box' students in personality," said Robert Cutietta, Dean of the Thornton School. "They explored all that USC had to offer and drank it up."
After graduation in 2003, the musicians went on to successive two-year residencies at Colburn Conservatory of Music in LA, and the Juilliard School, where they studied with members of the Julliard Quartet. Their first album, released in 2008, combined works by Mozart and Ravel with Arcadiana by Thomas Adès, who would became a close collaborator.
Around the same time, Bulbrook's sister, Anna Bulbrook, was finding success as a member of the rock band Airborne Toxic Event, resulting in a string of late-night television performances for which the Calder Quartet supplied backing string arrangements. Suddenly these four conservatory graduates were playing for national audiences on David Letterman, Jay Leno, Conan O'Brien and Jimmy Kimmel. Other rock collaborations followed, notably one with the party rocker Andrew W.K., who sought an improbable touch of sophistication for songs like "Party Hard" and "Tear it Up." More than providing backup, however, the Calder began to sprinkle in works by Bach, Cage, Riley and Glass.
"The audience sizes have been really cool for us," said Bulbrook, referring to shows at the 18,000-seat Hollywood Bowl, the Coachella Music and Arts Festival and New York's Webster Hall, all with Airborne Toxic Event. "The first time you play you've got a nice adrenaline buzz; you're really soaring. It's like you adapt to that. And that makes all shows feel a little calmer in a certain way."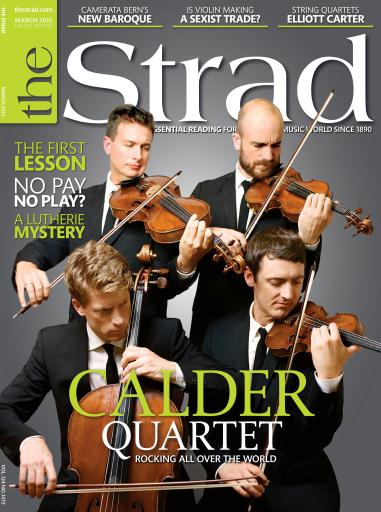 The Calder musicians have brought some of rock's theatricality to the classical sphere. It goes beyond their hip publicity photos (by the rock photographer Autumn De Wilde) or appearances on "Morning Becomes Eclectic," the taste-making indie music show on KCRW in Santa Monica, CA. Bulbrook considers how playing a simple accompaniment – a held note, subtle pattern – might seem insignificant within a classical composition. "But you look at some of these rock charts and maybe there's a keyboard ostinato or a single note," and the musicians "are performing the you-know-what out of it. They're delivering all the passion."
The quartet has also learned the value of making a high impact in a short time frame. Many of their recitals highlight pop-length works. This month, it appears on a new album by the pianist Gloria Cheng featuring Messiaen's Pièce for piano and string quartet, which is "like this dense package of stuff," notes Moerschel, the violist.
Similarly, the quartet's performance at the Getty Center in Los Angeles last October included Webern's epigrammatic Five Pieces for String Quartet as well as short commissioned works by three Los Angeles film composers: Bear McCreary ("Battlestar Galactica"), Don Davis ("The Matrix") and Mark Mothersbaugh, formerly of the new-wave band Devo. "You have so little time to say what you have to say," says Bulbrook. "The way they do it can be really interesting."
Film music, normally beyond the purview of string quartets, is a natural outgrowth of the Calder's work in pop and rock. The musicians have been recording McCreary's score for "DaVinci's Demons" a new dramatic series for the Starz network in the US and FK UK that purportedly tells the "untold" story of Leonardo Da Vinci. "It's amazing how well schooled all those film composers are," enthuses Jacobson. The series is scheduled to debut in the spring.
By reaching out to film composers, the Calder draws inevitable comparisons to another ensemble of Southern California's past, the Hollywood String Quartet, whose career spanned the 1940s through the late 50s. But while that ensemble grew out of the desire by four L.A. studio musicians to play "serious" repertoire, the Calder is less prone to compartmentalize its activities.
"I think being on the West Coast really does make a difference," writes Cutietta, the USC dean, in an e-mail. "There really is a different mindset here.  There is an energy that encourages risk taking. Or maybe it is just more 'laid back.' Instead of pushing to be 'risk takers' there is more of a 'hey man, let's try this' attitude. The movie industry, and its artistic mindset, really does permeate L.A. and I think Calder took advantage of it."  
The musicians of the Calder say that their West Coast perspective comes without the burdens of tradition that one associates with Europe or the East Coast. Although they don't actively play up their L.A. identity, they acknowledge the example set by the Los Angeles Philharmonic and its dynamo conductor Gustavo Dudamel. "With the LA Phil setting a certain tone for the city musically – and just its leadership on the new-music front – it creates an environment that's different from other cities," says Bulbrook. "For us as a quartet, having that as a guiding light has a really big effect on our artistic evolution."
In the realm of contemporary composers, the Calder has a few favorites including Adès, Christopher Rouse and Terry Riley, the dean of West Coast individualists. The musicians came to know Riley in 2006 at the Los Angeles Philharmonic's Minimalist Jukebox festival when they performed some of Riley's works written while he was a student at UC Berkeley in the early '60s. As the story goes, Riley had dismissed his student works, ignoring them for more than 40 years, but after listening to the Calder Quartet's performance he had a change of heart ("I thought that maybe I should've pursued that direction more," he told the Los Angeles Times). In May, the Calder will perform Riley's Concerto for String Quartet and Orchestra with the Cleveland Orchestra.
The Calder has also put significant effort into promoting emerging composers. This fall, it is releasing the first installment of a recording project called "Eclectic Currents," capping a decade-long effort to premiere new works. The project began as an annual commissioning contest for the Carlsbad Music Festival in Carlsbad, CA, where the Calder is in residence. Some 30 works have resulted; 12 will be released as digital downloads and four on a physical CD.
The composer Matt McBane is the Carlsbad Festival's founder and a childhood friend of Jacobson in suburban Boston. "There are other quartets that work with technology, etc. but what makes the Calder special is they do that kind of stuff but they're also dedicated to the traditional rep," he said. "With that total combination they occupy a unique place in the music world. After playing with rock bands, that kind of expressive and physical nature of the performance came into the way they play other things."
With an interest in extended techniques, electronics and unusual textures, not all of the quartet's commissions are easy sledding for mainstream audiences. Byers says the quartet primarily seeks composers with a "really strong voice." Examples include Tristan Perich's Interface, which exemplifies his "one-bit" music; Daniel Wohl's textural study Glitch; and Jacob Cooper's The Mercy Seat, a daunting work involving processed and digitally distorted sounds. "Looking at their scores it all seems to work together in a certain way," says Byers. "It's like this person knows what their identity is and what their voice is and that speaks to us."
"It's never been about how many degrees a person has," Bulbrook adds. "It's – are you struck by the sound? Often we know pretty fast."
Because of the Calder's genre-hopping tendencies, some music critics have described their niche as "indie classical," a much-debated term referring to musicians who embrace the complexities of modern classical music with the dense, visceral qualities of indie rock. Detractors complain that the term is more problematic: just another way to bring an insidery pretentiousness to classical music. The Calder musicians shrug off the semantic debates. "It sounds cool but I don't know if we are that," says Bulbrook.
Reflecting on the Calder's 14-year run, Moerschel acknowledges that artistic variety is the key to longevity, as much as healthy interpersonal relationships. "It used to be you win a competition or play for a conductor," he says. Maybe that happens to a small extent but it's really through associations.
"Whether you're working with a rock musician, a contemporary composer or learning music of Mozart, they're all expressing similar emotions. They're using slightly different vocabulary; they're saying the say things but in different ways. Once you come to terms with that you don't feel the barriers between the different genres of music."