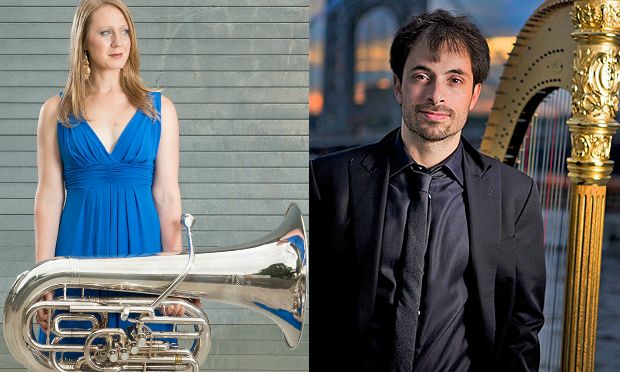 May 1, 2015
It's no secret that girls at a young age take up what they perceive as "feminine" instruments, such as the flute, piccolo, violin, and clarinet while boys tend to gravitate towards trumpets, tubas and percussion.
In this edition of WQXR's Conducting Business podcast, three guests discuss the origins of this phenomenon and how, when old stereotypes are challenged, it can sometimes lead to "cyber-bullying" and other forms of harassment among children.
Hal Abeles, the co-director of the Center for Arts Education Research at Columbia University's Teachers College, says that "adolescents, males in particular, get intimidated by not being with the majority. So if the majority of students in your middle school who are playing flute are girls, young boys feel 'I want to belong.'"
But instrument-based stereotypes can vary from culture to culture. Sivan Magen, a New York-based harpist, said he experienced few stereotypes while growing up in Israel or at the Paris Conservatory, where four of his eight classmates were male.
Carol Jantsch, the principal tuba of the Philadelphia Orchestra, says she never got grief from her classmates as a kid in Ohio. "If you're good at your instrument, your peers don't care what you play," she said. But conductors are another story, sometimes using the phrase "gentlemen of the brass" when addressing her section.
Finally, Ricky O'Bannon, a writer in residence at the Baltimore Symphony, believes teachers can do their part by simply downplaying the issue. "The moment you start saying 'this instrument is not just for girls or not just for boys'" is the kiss of death, he noted. "It's about having a child find the instrument that they're going to enjoy and not having any extra pressures on that."